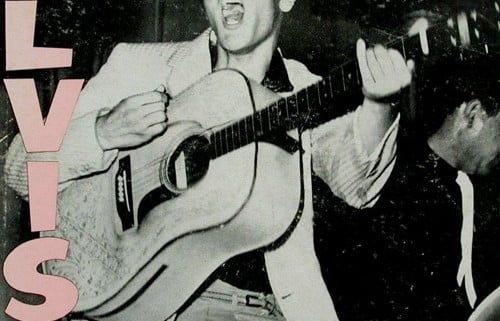 When A Cover Is So Iconic Others Replicate It – Elvis Presley's 1956 Album
Sometimes an album cover has such a visual impact that it ends up inspiring imitators who pay homage to the original. This is exactly what we will be looking at in this week's instalment of "Behind The Cover."
Few musicians are so well known that they are identified by just their first name. Elvis is one such example and his debut album, released in March 1956 set the tone for a wave of change in the complete music scene.
By today's standards, the cover art may be considered a touch on the dull side, but as any designer will tell you, less is more and with some album art, nothing could be truer. The Elvis 1956 album cover is one such example where simple worked best.
The album, also known as Elvis Presley Rock 'n' Roll or just Rock 'n' Roll, features a black and white action photo of Presley on stage performing. The photo snapped on July 31, 1955, was taken in Tampa, Florida at the Fort Homer Hesterly Armory. The photograph was credited for years to Popsie Randolph but decades later it was revealed that William V. 'Red' Robertson of Robertson & Fresch snapped the action shot. Randolph actually took the photos that appear on the back cover.
To make the black and white photo pop out from the cover, bold graphics in bright colours were used. The word 'Elvis' runs top to bottom of the right side of the frame in pink capital letters with 'Presley' in lime green running across the bottom of the frame. The dynamic photo captures The King (before he was crowned that) belting out a tune and shows an intense Elvis doing what he did best.
The album cover appears on many Top Album Cover Lists and Rolling Stone Magazine had it sitting at the number 40 spot out of 100 covers.
It also blazed the trail for others as the album was the first rock and roll record to hit the top of the music charts. It was also the first-ever rock and roll record to earn one million dollars. That, of course, was because of the content of the recordings but the album cover most certainly helped gain the exposure required to put Elvis on the map.
What makes the Elvis original so intriguing is the way in which it has been imitated since. No fewer than five different times this cover has been paid homage by other musicians. They include the extremely popular 1979 London Calling album by The Clash (pegged by Rolling Stone as their #39 pick) and F-Punk released in 1995 by Big Audio Dynamite. Others include k. d. lang's Reintamation (2006), Rise Up by Sir Cliff Richard (2018) and the single Tony Blair by Chumbawamba.
Based in Manchester UK, Pure Music is a CD manufacturing company. They provide CD/DVD manufacturing services that cover the spectrum between pressing and packaging. Pure Music aims to be your one-stop, affordable CD replication service which extends to various packaging options intended to fit your budget and specific design requirements.
https://pure-music.co.uk/wp-content/uploads/2019/01/elvis-presley-1956-album-cover.jpg
500
500
Toni Marino
https://pure-music.co.uk/wp-content/uploads/2015/03/logo.png
Toni Marino
2019-01-06 12:39:55
2019-02-12 13:39:38
When A Cover Is So Iconic Others Replicate It – Elvis Presley's 1956 Album