Information On How To Place An Order
If you are ready to make an order, you will find below details of how to supply masters and artwork and details on the ordering process.  You can go directly to our order form on this link. To place your order into production we will need your artwork and master, we can not begin production until all parts have been approved.
Supplying artwork.
You can find the download artwork templates for our products next to the prices, the download is a ZIP file containing templates in PDF, Indesign & Quark Express formats.
The templates should be self explanatory, however you may want to check out our CD & DVD Manufacturing blog section for articles on supplying artwork. However if your not sure about anything please call us on 0161 833 0089 or email info@pure-music.co.uk with any questions you have.
Notes For Photoshop Users
If you are creating you artwork in Photoshop we prefer to receive your artwork as native PSD files with all layers intact and a copy of all fonts used. The reason we ask for the Photoshop files rather than PDF is that Photoshop's in built PDF engine creates very bloated PDF files and sometimes has problems rendering text.
PDF Settings
Below you will find our general preferences for PDF Export, these are general guidelines and your software may show more or less options.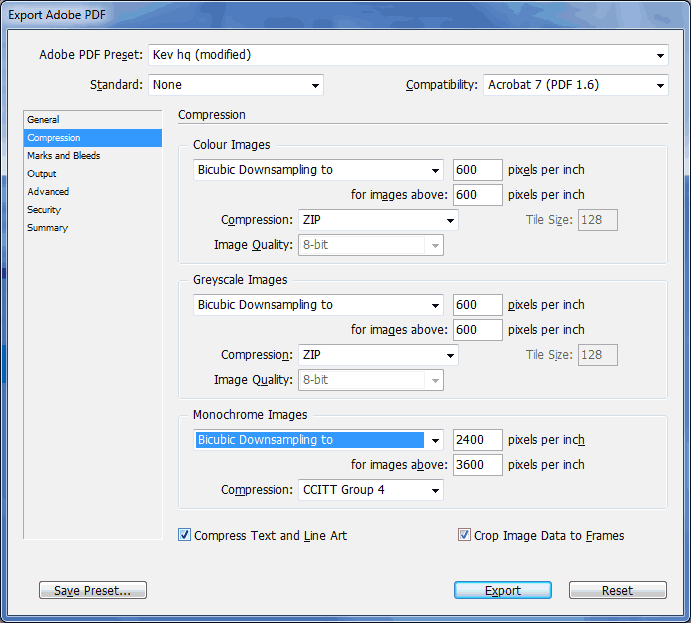 Supplying Masters.
For CD and DVD replication we can accept masters on  disc or as DDP image files. If you are sending us your master on disc please label your master with your name,  the project name or catalogue number and a contact number.
CD-R & DVD-R masters
If you are supplying the master on a CD-R (for CD) or DVD-R (for DVD), please use a good brand of disc, write the master "disc at once" at a low speed and make sure the disc is free of scratches, dust or fingerprints. Once the master has been written, please check  all the way through to make sure it is correct. Once the disc has been checked we advise packing it into either a CD album case or DVD box to protect the disc. We do not recommend using plastic wallets as these can get damged in the post.
Your master will go through an inspection and testing process prior to glass mastering. This process will check that the disc is free from errors due to a writing fault, physical damage.
This inspection will not detect any glitches, skips or distortions that are on the original files used to write the master. This is why it is important to check the master all the way through before submitting for CD manufacturing .
DDP masters for CD & DVD Manufacturing
The DDP image has quickly become the preferred format for supplying CD & DVD masters by professional mastering engineers & authoring houses. We can accept DDP master delivery over the internet by FTP upload or on disc / USB memory stick. We will require an MD5 checksum file for all DDP Masters, until we have the MD5 we will not be able to glass master your project.
Creating CD masters from your data files
If you do not have the equipment and software or do not feel confident creating your CD master, we can create a master from your data files. We do make a small charge for this service, this will be between £ 20.00 – £ 30.00 + VAT depending on the number of tracks and if you need CD Text and ISRC codes embedded.
Once we have created your CD master we will provide you with a CD-R reference disc or files to download so you can check that you are happy with the master. If we are creating your CD master please add 2 – 4 days to the standard turnaround time.
Please note that we do not adjust the EQ or dynamics when creating your master. If you require "creative mastering" with audio enhancements we can recommend various professional mastering studios that we work closely with.
Enhanced CD Masters
We can manufacture Enhanced CD's (Audio + Data) at no extra cost, you are paying for the disc and not the content. We can accept Enhanced CD masters as either CD-R or DDP master.
If you are unable to provide a Enhanced CD master, we can create this for you at additional cost, please contact us for prices.
Other master formats for masters
We can also accept audio masters on Exabyte and 1630 U-matic tape. For CD ROM we can accept masters as ISO on disc, memory stick or by FTP transfer. We can also accept DVD masters on DLT.
Uploading DDP Masters.
You can use the file transfer service below to send us your DDP files. If your file is larger than 2 Gigabytes please contact us for details of our FTP server.
Sending Files.
You can supply your artwork on disc (CD or DVD), on USB memory stick, by sending us links to download your files or upload via our online file transfer service. We prefer not to receive artwork via email unless the total file size is under 15MB . Our file transfer service is quick and easy to use, you can send files up-to 2 Gigabytes in size.
Clink on the Image on the right to do directly to the upload page. To add your files click the + button and select the files you want to upload, type your email address in the 3rd box, and leave a message in the box at the bottom. If you can include your name, a phone number and details of the project it would be really helpful. Then just click the transfer button and the upload will begin.
You will get an on screen notification once the transfer has completed and a confirmation email.
If you are sending in artwork on disc or USB memory stick, please label these with your name, the project name or catalogue number and a contact number.
Invoicing & Payment.
Once we have received your master and artwork and these have been checked we will issue you an invoice. If we need to do any work to your master or artwork you will be sent proofs or reference disc for approval, we wont take payment until these proofs or reference discs have been approved by you.
On approval of proofs we are happy to get the job running, however we can not despatch your order until we have received full payment. We can accept payment by bank transfer, cheque (allow 5 days for clearance), debit card, credit card (subject to 3% credit card processing fee).
For orders from Councils, universities, schools and other public organisations, all we need is a purchase order to get your order into production.
Turnaround
Once we receive your master and artwork to our specifications, please allow approximately 14 – 18 days for delivery of your order. These are real calendar days and not working days. If you plan on placing an order around bank holidays, Christmas, or the during the summer period lead times may increase depending on demand.
It is important to note that day 1 does not start until we have received all artwork and masters, we are unable to place jobs into production until all parts have been received and checked.
If we have to do any editing to your artwork, such as adding bleeds or barcodes, we will need to send you PDF proofs for approval. Until these proofs have been approved we can not commence with the CD manufacturing.
The same principle applies to CD masters, if you require any editing or the addition of CD Text or CD ISRC codes, we will supply you with a reference disc or download to check. We will require approval before we can commence with CD manufacturing. After approximately 7 days we should know the actual delivery date, and we will notify you by email.
Delivery
All of our products are delivered by courier, this can be any time between 9:00AM – 4:30PM, unfortunately we are unable to give an exact time time of delivery as this will depend on what other deliveries the couriers have in your area that day. In most cases the couriers will contact you by phone 24 hours prior to delivery to make sure someone will be available to receive the goods.
The only exception to this is smaller items such as CD's disc only, in PVC or card wallets, these may be delivered by UPS. Items delivered by UPS to residential addresses can be delivered up to 7:30PM, and UPS do not telephone you prior to delivery, we will advise you if your order is to be delivered by UPS.
If no one is available to accept the items on the day of delivery, the courier may charge for re-deliveries. If you need to change the delivery address of your order, we will require the new address 4 days prior to delivery. Once the goods are in transit it may be possible to change the delivery address, however this may be subject to an additional charge. We can not change the delivery address for items sent by UPS once they have been despatched.[/reveal]
CANT FIND WHAT YOU ARE LOOKING FOR?
If you still cant find what you need call us on 0161 833 0099 or use the form on the top of the page to contact us.
The CD & DVD prices on our site are for our most popular products. However we can produce a wide range of other packaging and larger quantities. So whatever you are looking for, we are pretty sure we can supply it.
If you have any technical query's on supplying artwork or masters, one of our team of advisers will be able to answer all of your questions.
WOULD YOU LIKE TO GET A SAMPLE?
Some people say picture is worth a thousand words, however we think to appreciate the quality of our DVD & CD manufacturing there is nothing like seeing a sample in your hand.
If you would like us to send you a sample of some our the previous products we have manufactured, please fill in the form at the top of the page and we would be more than happy to send you a sample to check out yourself.
We do this because we are certain that you will be impressed with the quality of our work