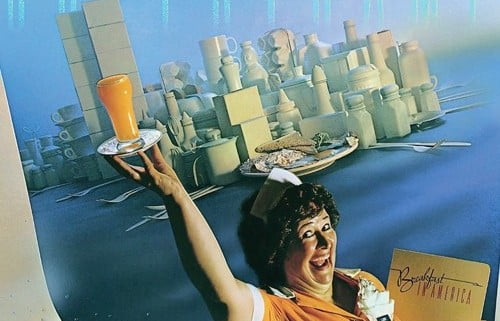 Supertramp Serves Up Breakfast In America In A Big Way
In this week's "Behind The Cover" feature we explore a British band's explosive assault on the US market with an album cover that has since been connected to the 9/11 attack in New York City.
British rock band Supertramp released their sixth studio album in March 1979. It contained four US Billboard hit singles that shot the band into superstardom – and ended up being their biggest selling album. In addition to the quality music hidden in the grooves, the album cover art gave Breakfast In America a particular charm.
The view featured on the front cover resembles that from an airplane over New York City. If you look carefully, you will be able to identify specific landmarks that have been recreated for the album. The most obvious of the landmarks is the Statue of Liberty. It is represented by model Kate Murtagh who is dressed as a waitress named Libby. Libby has a glass of orange juice and small plate hoisted above her head in one hand to replicate the torch held by Lady Liberty. In her other hand is a foldable menu with the album title written on it.
The balance of the cityscape includes buildings and waterfront features made from such items as vinegar, ketchup and mustard bottles, breakfast cereal boxes, cutlery and most anything else you would associate as coming from a roadside diner. All of these elements are spray painted white. Two stacks of boxes form the World Trade Center and Battery Park, the Staten Island Ferry terminal is formed in the plate of breakfast.
There is no doubt that this cover was mounted on walls in many dorms across the globe simply because it was so attractive. For many, it conjured up memories of holidays and the postcards one would purchase to either mail or keep as a souvenir. That made this album cover an iconic piece of work.
The cover was designed by Mike Doud and he added a more personal touch to the back cover. It shows the band members having breakfast in an old-style diner with each of them reading their respective hometown newspapers. That photo was staged inside of a diner known at the time as Bert's Mad House.
Hard to believe that this piece of rock music artwork would become part of a 9/11 conspiracy theory, especially 30+ years after it was originally released, but it was. The theory focused on the two letters 'U-P' in the band name Supertramp. They apparently resemble the numbers 9 11 hovering behind the Twin Towers when the cover is viewed in a mirror.
You just checked it yourself, didn't you?
Regardless of the supposed controversy, the album cover won the Best Recording Package Grammy Award in 1980.
Pure Music Manufacturing is a CD manufacturing company based in Manchester UK. They offer a wide range of CD/DVD manufacturing services from pressing to packaging and aim to be an affordable, one-stop CD replication and CD Printing service. In addition, Pure Music Manufacturing also provides various packaging options to suit your needs and budget.
https://pure-music.co.uk/wp-content/uploads/2019/01/Breakfast-In-America-album-cover.jpg
500
500
Toni Marino
https://pure-music.co.uk/wp-content/uploads/2015/03/logo.png
Toni Marino
2019-01-06 12:38:40
2019-03-11 11:49:16
Supertramp Serves Up Breakfast In America In A Big Way