Templates and Supplying Artwork Files
Under the CD package rates prices you will find a link to download the specifications. The ZIP folder contain PDF and InDesign templates. The PDF templates can be imported into most design software including Adobe Illustrator and Photoshop.
We prefer to receive high-resolution PDF artwork files, but can accept artwork in other formats. We advise that you check with us before sending in non-PDF file types to make sure we can accept your files.
If we need to make minor adjustments to artwork for bleed, positioning or adding barcodes, we will normally make these changes free of cost.
If we edit your artwork we will provide a full set of PDF proofs for approval. We need an approval of these proofs before we can start CD manufacturing.
If we need to make minor adjustments to artwork for bleed, positioning or adding barcodes, we will normally make these changes free of cost. If a large amount of editing is required to make the artwork fit the specification this may incur additional artwork charges. We will advise you of the cost of any artwork charges before we proceed with CD production.
If we edit your artwork we will provide a full set of PDF proofs for approval. We need an approval of these proofs before we can start CD manufacturing.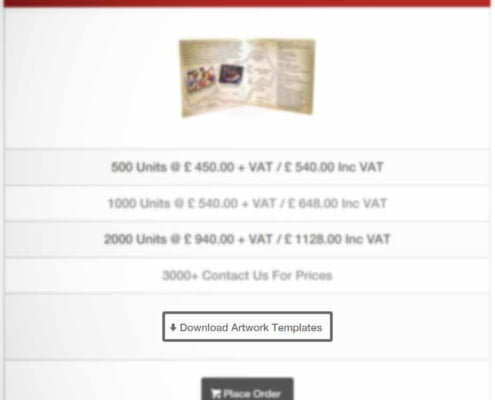 1
Cleick the button to download the templates
We can add an EAN 13 barcode to your artwork free of charge. Our minimum size for a barcode is 25 x 12.5mm and it can be printed anywhere on the back panel of the packaging. We advise leaving a 2 -3mm gutter from the edge of the panel.
If you need a precise placement of the barcode you can add a white box of a minimum size of 25 x 12.5mm and we will drop the barcode image in that box. We strongly advise barcodes are printed as black only on a white background.
Once the barcode has been added we will send you a proof to check that you are happy with the placement.
If you require colour accurate / contract proofs we can provide these at additional cost. We can do A4 and A3 proofs, please contact us for prices. 
You will need to allow additional time for us to create the proofs, send them to you, and for you to return them to us. We would normally recommend adding 4 working days to the CD Manufacturing turnaround if you require contract proofs.
As all of our CD printing is produced on large printing presses, it is not economical to set the machines up to produce a one-off copy of the printed parts.
Without a contract proofs our printers will print to weight.
The DDP image has quickly become the preferred format for supplying CD masters by professional mastering engineers.
We can accept DDP master delivery over the internet as an upload or on disc / USB memory stick. We will require an MD5 checksum file for all DDP Masters. Until we have the MD5 we won't be able to glass master your project.
Please make sure you have received a reference CD-R or have been supplied appropriate software so you can check your DDP Image prior to supplying to us for glass mastering.
If you are unsure if the CD-Text and ISRC codes been embedded, we can check these are correctly encoded on request.
Supplying A CD-R Master Disc
If you are supplying the master on a CD-R,please use a good brand of disc, write the master "disc at once" at a low-speed, recently we have noticed some brands of disc are performing best at 8 x or 16 x speed. Make sure the disc is free of scratches, dust or fingerprints. Once the master has been written, please listen to the disc all the way through to make sure it is correct. Once the disc has been checked we recommend packing it into either a CD album case or DVD box to protect the disc.
Your CD master will go through an inspection and testing process prior to glass mastering. This process will check that the disc is free from errors due to a writing fault, physical damage or if a disc is not Red Book Standard. If you have added CD Text or ISRC codes to the disc, let us know, and we will check that the information is present on the master.
This inspection will not detect any glitches, skips or distortions that are on the original audio files used to write the master. This is why it is important to check the master all the way through before submitting for CD manufacturing
Creating A CD Master From WAV / AIFF Files
If you do not have the equipment and software or do not feel confident creating your CD master, we can create a master from your data files for £ 20.00 + VAT / £ 24.00 Inc VAT.

We prefer to receive WAV or AIFF files at 44.1Khz / 16 Bit, although we can accept higher sample rates and bit depths if required. If you have any special instructions about adding gaps / pauses between tracks or segways please leave a note in the folder. We can add the CD Text and ISRC codes when creating the master. 

Once we have created your CD master we will send you a DDP file with a custom media player for you to download so you can check that you are happy with the master. If we are creating your CD master please add 2 – 4 days to the standard turnaround time.

Please note that we do not adjust the EQ or dynamics when creating your master. If you need "creative mastering" with audio enhancements we can recommend various professional mastering studios that we work closely with.that we work closely with.
Once you are ready to place an order you can go to our ordering page and select the product you want from the selection. The order form has some questions that are quite technical, if you are unsure of how to answer those, leave the section blank and we will get in touch if we need calcification. You can upload artwork, DDP and WAV files to us via our WeTransfer channel.
We do not invoice or take payment until your master and artwork have been checked and approved for production.
We advise submitting an order from before sending artwork or masters for checking as this gives the details we need to know check the artwork is to the correct specification and we can get you on our system.
Once we receive your master and artwork to our specifications, CD production time is approximately 14 – 16 days for delivery of your CD pressing in album cases and card wallets, for Digi products  allow 16 – 18 days. These are real calendar days and not working days. If you plan on placing an order around bank holidays, Christmas, or the during the summer period lead times may increase depending on demand.
It is important to note that day 1 of production does not start until we have approved all artwork and masters, we are unable to place jobs into production until all parts have been received and checked.
If we have to do any editing to your artwork, such as adding bleeds or barcodes, we will need to send you PDF proofs for approval. Until these proofs have been approved we can not commence with the CD manufacturing.
The same principle applies to CD masters, if you require any editing or the addition of CD Text or CD ISRC codes, we will supply you with a reference disc or download to check. We will require approval before we can commence with CD manufacturing.
Disc-Only Card-Wallet

Jewel-Case

DigiPak DigiSleeve DigiFile
All of our products are delivered by courier, this can be any time between 9:00 AM – 4:30 PM, unfortunately we are unable to give an exact time of delivery as this will depend on what other deliveries the couriers have in your area that day. If you delivery is coming on a pallet, the couriers will contact you by phone 24 hours prior to delivery to make sure someone will be available to receive the goods.
If no one is available to accept the items on the day of delivery, the courier may charge for re-deliveries. If you need to change the delivery address of your order, we will require the new address 4 days prior to delivery. Once the goods are in transit it may be possible to change the delivery address, however, this may be subject to an additional charge. In some situations we can not change the delivery address for items after despatch.
Once we have checked that your artwork and master are to our specifications we will place the job into production and send you an invoice, we do not invoice or take payment until all pats are approved.  We can accept payment by bank transfer and our bank details will be included in the invoice email, we can also accept debit card or credit card payments taken over the phone.
Please note that we can not despatch your order until we have received full payment.
For orders from Councils, universities, schools and other public organisations, all we need is a purchase order to get your order into production.