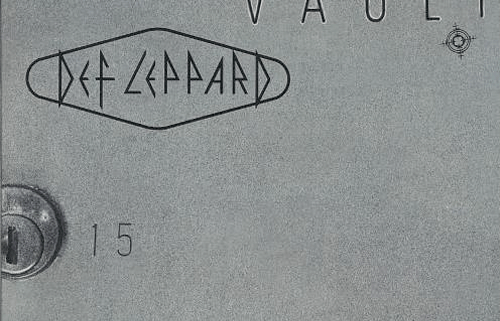 Def Leppard Breaks Into The Vault For Their Greatest Hits
'Behind the Cover' is a regular feature brought to you by Pure Music Manufacturing. It is a place where we can take a look at one of the many album covers that have been released over the past few decades. While looking into the history of that release, we will also discuss the story behind the cover art.
English hard rock band Def Leppard released their first greatest hits album in 1995. It carried the long title of, "Vault: Def Leppard Greatest Hits (1980-1995)." In addition to the band's biggest hits from their studio albums released to that date, a new song was included. The album went on to be certified gold in four countries, platinum in three and multi-platinum in two. It topped the 5-million copies sold mark in the United States in 2011 and is currently certified 4x platinum there. It also won the 1995 Readers' Choice Award in Metal Edge magazine for 'Best Hits or Compilation Album.'
Design firm Exquisite Corpse was in charge of the art direction and design for 'Vault' and they went with an obvious choice for the front cover. The photography was handled by Cynthia Levine and Ross Halfin. Interestingly enough, not all releases of the album contain the same cover art. This is common but with 'Vault' a number of alternate covers exists depending on the actual release.
While most of them contain a front photo of a steel vault in close up, a limited edition two disc collection features a very different cover. This one has a picture of a green eye. Inside of that eye is a photo of a vault.
But let's take a closer look at the actual vault photo. It is a grey metal surface with what appears to be stamped lettering that says from the top down, "19 80 – 19 95, Def Leppard Greatest Hits, Vault." Below that is a stamped into the metal Def Leppard logo. Near the bottom of the photo, off to the far left, is the keyhole to access the vault and next to that is the number 15. To many, that number was meant as a reference to what vault number it was. In actual fact, it refers to the number of hits contained on the disc. A limited edition re-release in 2018 saw a total pressing of 1,000 copies of 'Vault' in clear vinyl.
A CD release of 'Vault' features a three-page booklet which covers the interesting and sometimes tragic history of Def Leppard. It was written by Peter Mensch who was in two of the band's music videos. The liner notes, in releases other than in North America, contain a signed note from the band members which contains text promoting their following album titled, 'Slang.'
Pure Music Manufacturing is a CD manufacturing company located in Manchester, UK. With several CD/DVD manufacturing services, they focus on everything you need for your project including pressing and packaging. Pure Music intends to be your one-stop CD replication service and have services designed to meet your needs and stay within your budget.
https://pure-music.co.uk/wp-content/uploads/2019/03/Vault-Def-Leppard-Greatest-Hits-album-cover.png
500
500
Toni Marino
https://pure-music.co.uk/wp-content/uploads/2015/03/logo.png
Toni Marino
2019-03-18 12:14:36
2019-03-18 12:14:36
Def Leppard Breaks Into The Vault For Their Greatest Hits