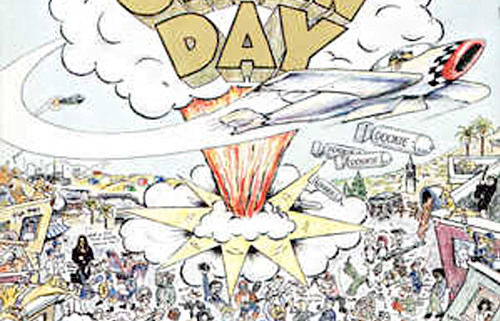 How A Sick Member of Green Day Inspired The Album Name 'Dookie.'
American rock band Green Day released their third studio album in 1994. It was titled, 'Dookie' and was the band's first major record label release. It produced a total of 5 singles and went on to become a worldwide commercial success. It is the band's best-selling album with over 20 million copies sold around the world. It peaked at #2 on the Billboard 200 album chart and also charted in seven other countries. The album was certified Diamond and took the Grammy Award for Best Alternative Music Album in 1995. It also sits on several 'best album' charts and lists.
However, the album got its title in an unusual way. One unnamed member of the band was dealing with a severe case of diarrhea. It resulted from a bad meal consumed on the road during one of the band's tours. The band jokingly referred to the situation as being 'liquid dookie' and originally intended for this release to have that name. Once it was determined that Liquid Dookie would be considered too gross by many, the title was shortened to 'Dookie."
The album cover art became a source of controversy as well. It was designed and drawn by Richie Bucher and showed bombs being dropped on buildings and people. The setting in the drawing is Berkeley's Telegraph Avenue and in the centre of it is an explosion with the words 'Green Day' above it.
The band wanted a local musician who knew the culture of the region to do the cover art and that was why Bucher was chosen. They wanted the cover to represent the East Bay area the band is from and if you look closely, you'll discover hidden pieces of the band within the artwork. For example, there's a photographer with a beard in it and that represents a bearded man who was shooting photos of bands playing at a local venue. A female in a robe that resembles the Mona Lisa is visible and she represents the woman who appeared on the cover of the first Black Sabbath album – an influence of Green Day's. Plus, AC/DC's Angus Young appears who is also another influence. Wording in graffiti in the picture also references people and events connected in some way to Green Day.
The back cover of the CD release featured a plush Ernie from Sesame Street but was later airbrushed out of the photo to avoid a lawsuit. However, Ernie apparently still appears on Canadian and some European issues. The disappearance of Ernie did spawn an urban legend of sorts where some claim 'Dookie' led parents to believe it was a child's lullaby. Other stories point to Ernie being removed because the band was sued for using his likeness – both stories are untrue.
Pure Music Manufacturing is a CD manufacturing company based in Manchester, UK. They have many different CD/DVD manufacturing services which include pressing and packaging. Pure Music intends to be your only source for any type of CD replication service. They have created services that are designed to meet your needs and budget.
https://pure-music.co.uk/wp-content/uploads/2019/03/dookie-album-cover.png
500
500
Toni Marino
https://pure-music.co.uk/wp-content/uploads/2015/03/logo.png
Toni Marino
2019-03-18 12:09:15
2019-03-18 12:09:15
How A Sick Member of Green Day Inspired The Album Name 'Dookie.'