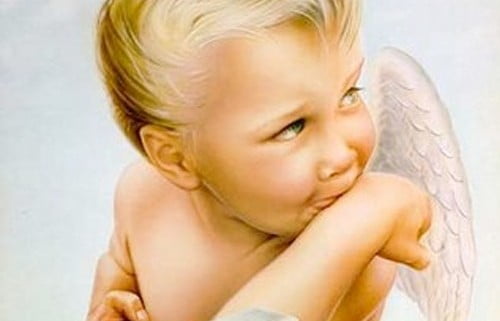 Van Halen Jumps Into The Future With "1984."
"Behind The Cover" is where we share with you the story behind one of the most iconic album covers in the music world. This time around Pure Music takes a look at Van Halen's huge release from 1984. Not only was it a massive hit for the band because of the songs it contained, but the album cover art was just as dynamic and outstanding.
The sixth studio album by American hard rock band Van Halen was released just days into the year that it was named after. It was also the last album to feature all four of the original members of the band. "1984" and the band's debut album "Van Halen" ended up to become their best selling discs with more than 10-million copies of each having been sold.
In fact, "1984" was a huge success on many different fronts. Music critics loved it, radio stations played it endlessly as it produced four singles. One of which ended up to be Van Halen's only Number One single ("Jump") which shot to the top of the Billboard Hot 100 chart. Even MTV had videos for "Jump," "Panama," "I'll Wait" and "Hot For Teacher" in high rotation. It most certainly appeared that the year 1984 was owned outright by Van Halen.
The album peaked at the Number Two spot on the Billboard 200 album chart and sat there for five weeks behind Michael Jackson's "Thriller." Interestingly, Van Halen lead guitarist and song writer Eddie Van Halen appeared on "Thriller" where he performed a solo in one of Jackson's tracks.
The album cover art for "1984" was a different matter altogether. Although it was not specifically commissioned, graphic artist Margo Nahas was tasked with creating a cover that featured four women made of chrome dancing. She declined and the band ended up reviewing her portfolio following a visit by Nahas' husband. In that portfolio was a painting of a putto stealing cigarettes.
A putto is not a cherub, which may have caused some confusion with the eventual cover art that had been the subject of censorship. A putto is usually a young, chubby, naked boy who may or may not have wings.
That was what led to the cover art design. The cover model, a young boy named Carter Helm, happened to be the son of a friend of Nahas' and he was photographed holding a candy cigarette. That became the cover for "1984" however, it did end up getting censored in one part of the world.
In the UK, a sticker was placed on the cover in such a way that it hid both the cigarette in the hand of the putto as well as the entire pack of smokes.
Based in Manchester, UK, Pure Music Manufacturing is a CD manufacturing company. We provide several different CD/DVD manufacturing services including pressing and packaging. At Pure Music, we intend to be your one-stop CD replication service and provide options for packaging that are affordable for your budget and meet all your packaging requirements.
https://pure-music.co.uk/wp-content/uploads/2019/02/1984-album-cover.jpg
500
500
Toni Marino
https://pure-music.co.uk/wp-content/uploads/2015/03/logo.png
Toni Marino
2019-02-21 10:08:30
2019-02-21 11:29:34
Van Halen Jumps Into The Future With "1984."