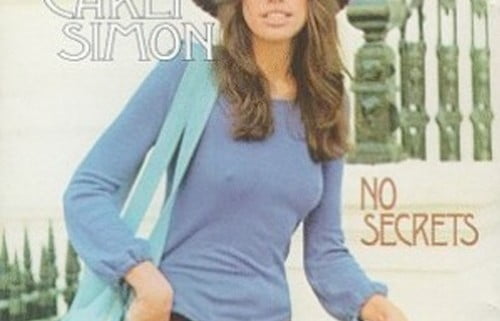 Carly Simon Puts A Whole New Spin On Playing Dead
Pure Music is a CD manufacturing service that includes packaging as one of our products. As a result, we see a lot of different cover art and have put together this feature to look at some of the best covers created. We call it "Behind The Cover" and this time we look at a controversial release by Carly Simon.
Carly Simon is probably not the first singer/songwriter you would think of when discussing controversial album cover art. Well, this is, if you ignore the braless shot of her on the front of "No Secrets" released in 1972. Okay, as well-known as she is for having stage fright, album covers have given her a different tool for self-promotion. It was her fifth studio album, "Playing Possum" which came out in 1975, that revealed a little more Carly for all to see.
Aside from producing three singles and becoming Simon's third consecutive album to reach Billboard's Top 10 Pop Albums chart, it had a few more interesting facts around it. Carole King appeared on backing vocals, as did Simon's then-husband James Taylor. Dr. John played piano and Ringo Starr was on drums. All contributed something unique to parts of "Playing Possum."
However, it was the cover art that got a lot of additional attention. In fact, it may be the most remembered part of the album today. Photographer Norman Seeff shot a complete series of photos of Simon for this album cover. In them, Simon was wearing a black negligee, sheer-to-waist pantyhose and knee-high black boots. The photo session amassed a large number of photos to choose from and the one that ended up on the front cover was of Simon on her knees in a somewhat suggestive pose with part of her head and face cut off from the photo as it was produced to be larger than the album cover space available.
Other photos from the session were used elsewhere in the packaging and although the cover was considered to be controversial, it was never censored nor was it replaced with something else. As it turns out, the black and white photo earned a nomination in the Best Album Package category at the 18th Annual Grammys. It also reached the #20 spot in Rolling Stones Magazine's list of the 100 greatest album covers which was released in 1991.
Additional photos from the "Playing Possum" photo shoot found their way into the booklets that accompany two different Simon CD sets. Although you could argue that the 'sexy' Simon cover shot um, exposed her to a wider audience, the music contained on the release was as consistent as expected. It produced three singles with the best-known of them being "Attitude Dancing." The other two were "Waterfall" and "More And More."
Pure Music Manufacturing is a Manchester, UK based CD manufacturing company. Pure Music offers several different CD/DVD manufacturing services including pressing and packaging. Our goal is to become your single source for CD replication services and provide packaging options that are both affordable and designed to meet your specific requirements.
https://pure-music.co.uk/wp-content/uploads/2019/02/No-Secrets-album-cover.jpg
500
500
Toni Marino
https://pure-music.co.uk/wp-content/uploads/2015/03/logo.png
Toni Marino
2019-02-21 10:09:00
2019-02-21 11:33:03
Carly Simon Puts A Whole New Spin On Playing Dead