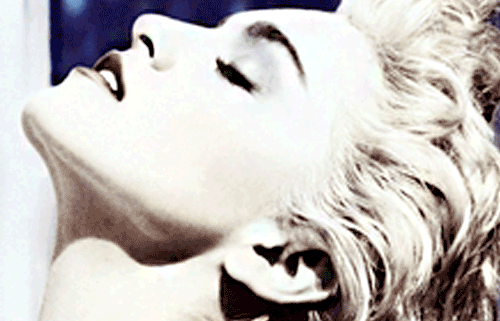 True Blue Album Cover By Pure Music
This is 'Behind The Cover' where we dig into the story behind the album artwork and music of some of the most iconic albums in music history. This feature is proudly presented by Pure Music Manufacturing of Manchester, UK.
American singer/songwriter Madonna released her third studio album, titled, 'True Blue' in June 1986. The album content covered her visions of love, dreams, work and disappointments and was inspired by her then husband, Sean Penn. It was also dedicated to him.
The album was a true blue success. It went to #1 in a total of 28 countries in the world, which set a new record at the time. It was at the top of the charts in Australia, Canada, France, Germany, the UK and US to name a few. The European Top 100 Albums Chart saw 'True Blue' latched onto the #1 position for a total of 34 consecutive weeks. It became the world's top-selling album in 1986 and remains one of the best-selling albums of all time. It produced a total of five singles with each of them reaching the Top Five on the Billboard Hot 100 List. "Open Your Heart" went to the top of that chart.
Photographer Herb Ritts shot the album cover. It features a picture of Madonna from the neck up. The primary colours in the photo are grey, white and several shades of blue to match the album title. The photo has become one of Madonna's most recognised pictures. The photo shows her in an elegant pose wearing pale white makeup and red lipstick while tilting back her head in a swan-like position. Warner Brothers Art Department staffer Jeri Heiden had been given the task of going through all the photos shot from the session to choose the final album cover.
She had 60 different rolls of 35mm film to edit and ordered between 30 and 40 test prints to view and pass on recommendations. A number of images from the shoot were considered with the final selection coming down to Heiden, Warner Brothers Creative Director Jeff Ayeroff and Madonna. The ones that did not get used for the album cover ended up on covers for the singles that were released.
A total of two different versions of the album cover were commissioned by Heiden. She knocked the photo down to black and white and experimented with numerous treatments including a blue-toned, hand-tinted version. The album cover is a cropped version of a full-bodied photo which appears in some releases including the fold out cassette cover version. Heiden has stated that cropping the photo into a square gave it a unique quality, something "Goddess like" and appeared as if Madonna were a marble statue.
Pure Music Manufacturing is based in Manchester, UK. They are a CD manufacturing company that offers many different CD/DVD manufacturing services. These services include packaging and pressing of your product. Pure Music aims to be your one-stop source for CD replication services and has packages designed to meet your specific needs and the budget of your project. Contact Pure Music Manufacturing today to find out more.
https://pure-music.co.uk/wp-content/uploads/2019/09/True-Blue-album-cover.png
500
500
Toni Marino
https://pure-music.co.uk/wp-content/uploads/2015/03/logo.png
Toni Marino
2019-09-02 10:26:34
2019-09-02 10:26:34
Papa Don't Preach, Madonna Is 'True Blue.'