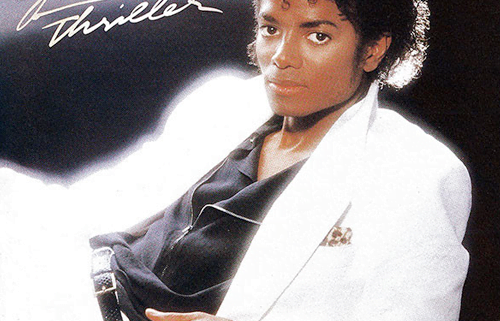 The World's Best Selling Album Truly Was A Thriller
Thriller Album Cover
The World's Best Selling Album Truly Was A Thriller
Pure Music Manufacturing proudly presents, "Behind The Cover." This is a feature that focuses on the details behind the music and cover of top album releases from the past few decades.
American singer Michael Jackson was already a musical icon long before he released his sixth studio album in November 1982 titled 'Thriller." You probably already know about his time with his brothers in the Jackson 5 so when Michael became a solo artist, there was already a ton of history behind him. With 'Thriller' he continued to explore the musical genres of pop, rock, funk and post-disco from his previous album titled, "Off The Wall."
This disc broke and set several music records including becoming the world's bestselling album with well over 66 million copies in circulation. It is also the second best selling album in the United States (The Eagles 'Their Greatest Hits (1971-1975) holds the top spot). 'Thriller' was also the first album in the United States to reach 30x Platinum certification.
A total of seven singles came from 'Thriller' – all of which hit the Top 10 on the US Billboard Hot 100 chart. They included 'The Girl Is Mine,' 'Billie Jean,' 'Beat It,' 'Wanna Be Startin' Somethin',' 'Human Nature,' 'P.Y.T. (Pretty Young Thing),' and 'Thriller.' The disc took a record eight Grammy Awards in 1984 including Album of the Year. The album has been credited many times over as being somewhat responsible for breaking racial barriers that enabled Jackson's high profile appearances on MTV.
It was also one of the first albums to make use of music videos for promotional purposes. Videos for a number of the singles were in regular and high rotation on MTV. The song 'Thriller' was produced into a 13-minute mini-movie/video directed by John Landis which has since been considered the "best music video of all-time" by MTV.
The album cover was shot by photographer Dick Zimmerman. It features Jackson reclining in a white suit. The suit belonged to Zimmerman. It actually appears somewhat plain and average compared to the remarkable record-breaking material found inside. The gatefold photo has a bit more of a story to it. It features Jackson in the outfit and basic pose but reveals a tiger cub at Jackson's leg. The photographer claims that the singer did not want the animal anywhere near his face for fear of getting it scratched. A 2001 special edition release of 'Thriller' features an additional photo from that shoot which shows Jackson embracing the tiger cub.
'Thriller' also exceeded any other albums to date produced by the Jacksons and blazed a trail for his sisters, Janet and LaToya, to explore their solo careers as well.
Pure Music Manufacturing is a CD manufacturing company. Based in the hear of. Manchester, UK, we provide many different CD/DVD manufacturing services. These services include pressing and packaging of your project. The goal of Pure Music Manufacturing is to become your solitary source for CD replication / CD Printing and CD duplication service. We have designed our services to address both your budget and the specific details of your upcoming release.
https://pure-music.co.uk/wp-content/uploads/2019/04/Thriller-Album-Cover.png
500
500
Toni Marino
https://pure-music.co.uk/wp-content/uploads/2015/03/logo.png
Toni Marino
2019-04-17 09:54:18
2019-04-17 09:54:18
The World's Best Selling Album Truly Was A Thriller