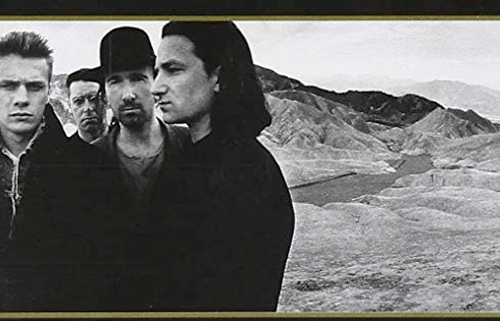 U2 Will Soon Understand The Significance of 'The Joshua Tree.'
Pure Music Manufacturing welcomes you to another edition of 'Behind the Cover' where we take a closer look at the details behind a well-known album release. This time we will examine in interesting story behind U2's incredible album 'The Joshua Tree.'
The 5th studio album released by Irish rock band U2 in 1987 was titled, 'The Joshua Tree' although it was not originally carrying that name. The album went on to top charts in over 20 countries and was the fastest-selling album in British music history. It had three hit singles and went on to win two Grammy Awards – for Album of the Year and Best Rock Performance (by a Duo or Group with Vocal). 'The Joshua Tree' is considered one of the greatest albums of all time and is one of the world's best-selling albums with well over 25-million copies sold.
Several re-releases have followed. In 2014 the album was selected for preservation in the National Recording Registry. That resulted from the US Library of Congress deeming it to be "culturally, historically, or aesthetically significant."
The album was originally called 'The Desert Songs' and 'The Two Americas' and recording sessions proceeded with those as the working titles. The first cover design was based on where the desert met civilization and principal photography was set to take place in the United States for the first time in the band's history. Photographer Anton Corbijn was requested to scout potential sites for photos that would capture the essence of the title.
While spending time with the band touring around the Mojave Desert on a bus, photos were taken around Reno, Nevada and then to several different locations in California. At one point, Corbijn told the band about Joshua trees and suggested using one on the record sleeve. Lead singer/songwriter Bono found the religious significance of the tree quite fascinating and after doing some additional research, announced that the album should be called 'The Joshua Tree.'
Near Darwin, California, a lone Joshua tree was located in the Mojave Desert. It was used for all photos that appear throughout the album including the front cover. Although the photographer was hoping to discover a solo tree, he had decided that shooting the band amongst a group of trees would still work out fine. That was until the single tree was spotted.
According the band member Edge, when the lone tree was located, the bus stopped and Corbijn shot photos of it for about 20-minutes in a "fairly spontaneous" manner. The cold temperatures encountered in the desert by the band are blamed for the 'grim' look on their faces in the photos on the album cover.
Based in Manchester, UK, Pure Music Manufacturing is a CD manufacturing company. They have developed many different CD/DVD manufacturing services which include all related services to the pressing and packaging of your product. Pure Music aims to be your one-stop CD replication service and has services designed to meet your specific project needs as well as staying within your budget.
https://pure-music.co.uk/wp-content/uploads/2019/03/The-Joshua-Tree-Album-Cover.png
500
500
Toni Marino
https://pure-music.co.uk/wp-content/uploads/2015/03/logo.png
Toni Marino
2019-03-18 12:03:14
2019-03-18 12:03:14
U2 Will Soon Understand The Significance of 'The Joshua Tree.'