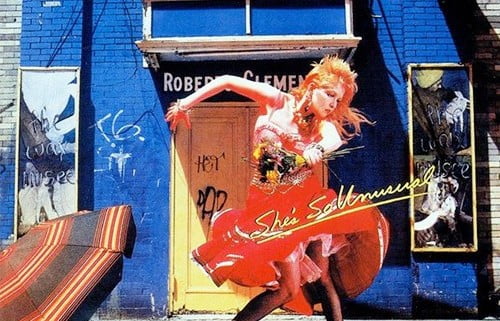 'She's So Unusual' Pretty Much Described The Artist – Cyndi Lauper
In this edition of 'Behind The Cover," Pure Music takes a look at a quirky young lady from the United States.
Typically when a musician releases their debut album, they try to do so with a significant amount of flair to draw attention to their efforts. Cyndi Lauper, an American singer/songwriter, did just that when her first album hit the streets in October 1983.
Lauper had been in a band she formed in 1978. Blue Angel had a recording contract and released an album which bombed. The band split up and fired their manager who sued Lauper which forced her into bankruptcy. She ended up singing in New York nightclubs until David Wolf 'discovered' her and signed Lauper to a new record contract in 1983.
Annie Leibovitz shot the cover for She's So Unusual on Henderson Walk in Coney Island, New York. Lauper wore a vintage red prom-style dress that she owned and had purchased previously at a vintage clothing store she once worked at. A bouquet of flowers, purchased just prior to the photoshoot from a local street vendor, is in one hand.
To add to the 'quirky' image, Lauper has clunky costume jewelry on her arms, ears, neck and one ankle. The balance of her clothing includes fishnet stockings and red high-heel shoes, which were not on her feet but appear in the bottom of the photo lying on their sides.
The photo, with Lauper in a freeze-frame stance with arms and legs askew, highlights her shocking orange hair which is flowing in the frame. The album cover photo was actually shot in front of the World In Wax Musee wax museum, which appears to have been shut for some time. In fact, the name of the museum was originally on the wooden awning above the doorway in the photo with two blue panels. For some reason, the name was removed from the album cover. It read 'The World' in one panel with 'In Wax' in the other.
Although there has been no explanation for removing the name, Lauper's stance in the photo would have provided a punchline of sorts had The World In Wax remained untouched.
What made the debut album much more unusual was that it produced a total of six singles. It sold over 6-million copies in the United States and 16-million copies worldwide. It also earned Lauper several awards including two Grammys. One of them was for the Best Recording Package in 1985.
The album was re-released in 2014 and called "She's So Unusual: A 30th Anniversary Celebration." The re-release contained several extras including demos and remixes plus new artwork. This time around it features a drawing of Lauper as she appeared on the original cover minus the entire background scene.
Pure Music Manufacturing is a CD manufacturing company. Based in Manchester, UK, they provide various CD/DVD manufacturing services. These services include pressing and packaging to your specifications. Pure Music aims to be your one-stop, affordable CD replication service. They can meet every budget and requirement with the many different packaging options they provide.
https://pure-music.co.uk/wp-content/uploads/2019/02/She's-So-Unusual-album-cover.jpg
500
500
Toni Marino
https://pure-music.co.uk/wp-content/uploads/2015/03/logo.png
Toni Marino
2019-02-10 16:22:27
2019-02-11 09:11:27
'She's So Unusual' Pretty Much Described The Artist – Cyndi Lauper