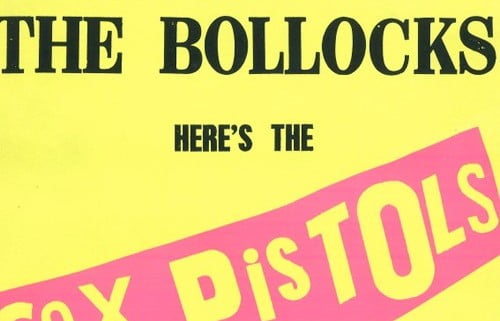 Here is another installment of "Behind The Cover" where Pure Music looks at the history of an iconic music album from the past. This time we feature the Sex Pistols.
The Sex Pistols were notorious long before they got into a recording studio. So much so that they had been fired by two record labels and banned from performing in several parts of England. However, they did finally release a studio album in October 1977. It would be their only contribution to the punk rock scene. The raw energy of the album titled, "Never Mind The Bollocks, Here's The Sex Pistols" has since become recognized as one of the most influential punk rock albums of all time.
However, the album was almost never made. Originally titled, "God Save Sex Pistols," the album cover designed by Jamie Reid was to be Day-Glo red and yellow in colour. Cutout lettering and a finish that resembled a crude screen print would complete the visual.
That was until the album was renamed in mid-1977.
The phrase "never mind the bollocks" was supplied by band member Steve Jones who said it came from a pair of fans who kept saying it to each other. According to Sex Pistol Johnny Rotten, the phrase was working-class slang for "stop talking rubbish."
Oddly enough, the simple and crude-looking album cover became the subject of censorship and obscenity cases simply because it contained the word bollocks. For some reason the visual that one could conjure up with the Sex Pistols name was tame in comparison.
In fact, controversies in late 1977 pointed to newspaper headlines that shouted the message "The Album Will Last. The Sleeve May Not." Record stores were visited by police and arrests were made wherever the album cover was on display. Naturally, if a record store owner chose to just cover up the word bollocks, they could stock and sell the album.
Eventually courtrooms relaxed on the matter when the word bollocks was actually traced back to its roots. It was an Old English term that at one time was used to refer to a priest. Others state that bollocks was the word used in early English translations of the Bible to refer to testicles and was eventually replaced by the word stones in later translations.
At one point in one obscenity trail the suggestion was made in jest by the band that the album could be re-titled, "Never Mind The Stones, Here's The Sex Pistols." Clearly fans of the Rolling Stones would be angered at that shot over the bow.
Regardless, not guilty verdicts were returned and the Sex Pistols kept on minding their bollocks.
Pure Music Manufacturing is based in Manchester, UK. The CD manufacturing company provides a full selection of CD/DVD manufacturing services. These services include pressing and packaging. Pure Music aims to be your one-stop, affordable CD replication service. They can fit every budget and requirement through their different packaging options.
https://pure-music.co.uk/wp-content/uploads/2019/02/never-mind-the-bollocks.jpg
500
500
Toni Marino
https://pure-music.co.uk/wp-content/uploads/2015/03/logo.png
Toni Marino
2019-02-10 16:23:30
2019-02-11 08:58:16
Punk Rock's Bad Boys The Sex Pistols Never Did Mind The Bollocks