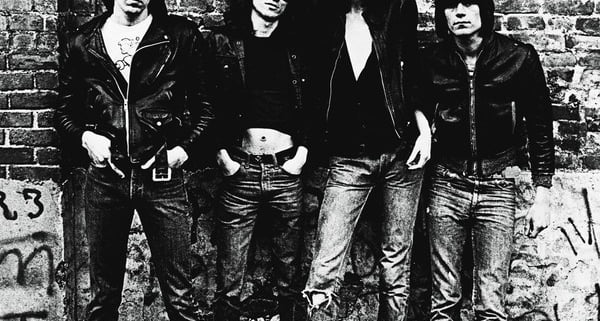 The Ramones Explode On The Music Scene With Their Debut Album
The Ramones Explode On The Music Scene With Their Debut Album
Ramones Album Cover
Pure Music Manufacturing proudly presents another installment of the ongoing series known as "Behind The Cover." It features a look at the music and story behind the artwork of a unique music release.
The debut studio album by American punk band Ramones was released in April 1976 and was titled simply, "Ramones." The band was first noticed at a New York City gig where they ended up being featured in an American music magazine. That led to the author seeking a manager for the band. That snowballed to locating a producer and eventually the recording of a demo to be shopped around to record labels. A recording contract was offered and the band recorded all the material for the album in seven days at a cost of just $6,400.
Punk Magazine photographer Roberta Bayley shot the cover photo which features the four members of the band leaning against a New York City brick wall. Although it has since become one of the most imitated album covers, the record company paid Bayley just $125 for her work. The back cover shows an eagle belt buckle with liner notes from the album along with the band logo which was designed by Arturo Vega.
The band had originally wanted to have an album cover that was similar in design and style as the 1964 release 'Meet The Beatles' and even went as far as to have a photoshoot with photographer Danny Fields but the record company did not like the results. Toni Wadler was the art director and chose the Bayley photo for the cover after the Meet The Beatles idea proved to be a horrible attempt at imitation. The Bayley front cover photo had originally appeared in Punk Magazine alongside a story on the band.
The interesting thing to note about the group photo of the band on the front cover is that it set the stage for all of their following albums which featured a group shot of the band. The debut album shot shows band members, front left, Johnny, Tommy, Joey, and Dee Dee Ramone all staring at the camera with blank expressions on their faces. They are all wearing the universal punk attire of torn and faded jeans with leather jackets.
Although the album was not a commercial success, peaking at #111 on the US Billboard 200 chart, critics loved it and it has since been deemed as a highly influential album. It has since taken the #1 spot in Spin Magazine's list of the "50 Most Essential Punk Records" as well as many other accolades. The disc made quite an impact on grunge and heavy metal music and continues to be pointed to when critics look at the major influences that changed music over the past several decades.
https://pure-music.co.uk/wp-content/uploads/2019/11/Ramones-album-cover.jpg
600
600
Toni Marino
https://pure-music.co.uk/wp-content/uploads/2015/03/logo.png
Toni Marino
2019-11-14 13:35:06
2019-11-14 13:35:06
The Ramones Explode On The Music Scene With Their Debut Album