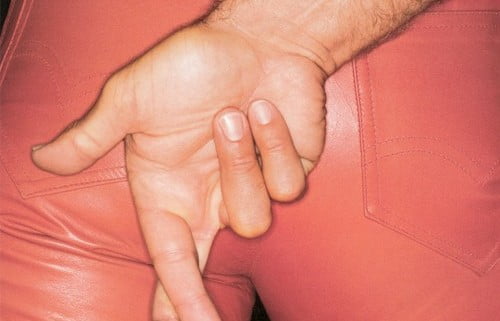 Loverboy Gets Lucky With Their Second Album
Canadian hard rock band Loverboy shot up the charts in 1981 with their second album, 'Get Lucky.' It soared to #7 on the Billboard 200 album chart and took up a two year residence on that very same chart. It has sold over 4-million copies and had four singles with the most recognisable of them being a catchy little tune called, "Working For The Weekend."
What really gave the band some recognition was the album art used for this disk. It became the subject of much speculation over the decades since it first appeared. The cover art features a butt shot of someone in tight red leather pants. In the foreground of the shot is a man's arm and hand. The index and middle finger are crossed as you would if you were hoping for some good luck.
The photo was shot by photographer David Michael Kennedy and the photo credit on the packaging states "Bottom by T. K." but that never really revealed whose butt was actually featured. Two of the band members, Mike Reno and Paul Dean, wore red leather pants on stage at various times during the band's lifespan. Rumours circulated that pinned the photo as being either one of them. Oddly enough, neither Reno nor Dean denied that it was or wasn't.
Again, since both Reno and Dean wore similar pants on tour, there was no doubt in many female fans' eyes that the album cover highlighted one of the male butts. It also probably contributed to a portion of the sales of the album as well.
It wasn't until 2012 in an interview Reno owned up to the fact that the cover model in the tight red leather pants was the photographer's daughter. He repeated that a year later in another interview. What this meant was that the model was Tymara Kennedy (the T. K. in the credit) who was just 13-years old at the time the album cover was shot.
The story gets even more interesting thanks to comments made by the photographer in a 2014 interview. Apparently just one pair of the leather pants was purchased. They were located in New York City by Kennedy's stylist but were too small to fit anyone in the band. One day, Kennedy's daughter saw them, tried them on and they fit. That inspired Kennedy to use his daughter as the cover model.
It turned out to be her only modeling credit as she died in an auto accident in 1991. The man's arm and hand in the photo is uncredited and apparently belonged to an unnamed male model that just happened to get the gig "on the basis of his big hands." The cover is considered one of the 50 greatest Canadian album covers according to CBC Music staff.
Pure Music Manufacturing is a CD manufacturing company. Based in Manchester, UK, Pure Music provides many different CD/DVD manufacturing services. These include pressing and packaging. Pure Music aims to be your one-stop CD replication service providing affordable packaging options designed to meet your requirements and stay within your budget.
https://pure-music.co.uk/wp-content/uploads/2019/03/get-lucky-album-cover.jpg
500
500
Toni Marino
https://pure-music.co.uk/wp-content/uploads/2015/03/logo.png
Toni Marino
2019-03-04 10:20:30
2019-03-04 10:20:30
Loverboy Gets Lucky With Their Second Album