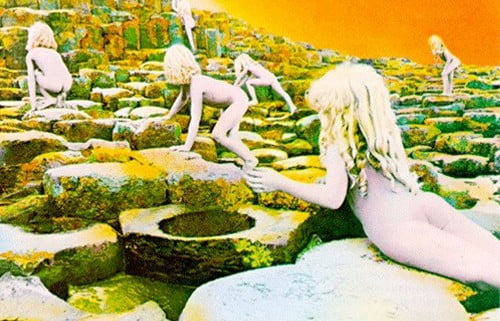 How A Novel Inspired Led Zeppelin's House of the Holy Album Cover
The stories connected to the art used in album covers are often very interesting and intriguing. At Pure Music, we look at several of the most interesting album covers ever produced in a feature we like to call "Behind The Cover."
English rock band Led Zeppelin released their fifth studio album in March 1973. It was titled, "Houses of the Holy" and featuring an interesting innovation in the creation of the music that it contained. By the time this album was being put together, several of the members of the band had home studios. This permitted them to expand their collective musical style through the development of more sophisticated songs and arrangements.
As a result, many of the songs that appear on this album became fixtures in the Led Zeppelin live concert set. And no wonder, the album was a commercial success being certified 11x platinum in 1999 by the Recording Industry Association of America.
The album cover for "Houses of the Holy" was designed by Hipgnosis – the first time the band used this design firm. The cover was inspired by the novel 'Childhood's End' by Arthur C. Clarke and was actually a collage of a number of photos. They all were taken at the Giant's Causeway in Northern Ireland by Aubrey Powell and stitched together to make the complete scene. Although an alternative location in Peru had also been considered, the Irish landscape ended up the winner.
The two children featured on the cover were photographed several times in black and white and were multi-printed to create a total of 11 individuals in the scene. The first version of the cover was rejected and colour tinting created the version that was used instead. The shooting schedule ran over ten days and took place early in the morning and late in the day to capture lighting specific to dawn and dusk. However, due to unfavourable weather conditions – cloudy skies and constant rain – the desired effect was virtually impossible to capture on film during the photo shoot.
There had been a completely different cover concept before the Northern Ireland landscape came into the picture. Artist Storm Thorgerson had an electric green tennis court with a tennis racket on it and the band rejected it thinking the visual pun hinted that the sound of Led Zeppelin was a 'racket.'
The version of the cover that was released with the album did not include the record title or the name of the group on it and went to on be nominated at the 1974 Grammy's. The category was Best Album Package. A reissue of the album in CD format in the 1980s featured the title and band name printed directly on the cover.
Pure Music Manufacturing is a CD manufacturing company. Based in Manchester, UK, they provide several different CD/DVD manufacturing services. These services include pressing and packaging and Pure Music aims to be your one-stop CD replication service. The numerous packaging options they provide are affordable are designed to meet your budget and specific requirements.
https://pure-music.co.uk/wp-content/uploads/2019/02/House-of-the-Holy-Album-Cover.jpg
500
500
Toni Marino
https://pure-music.co.uk/wp-content/uploads/2015/03/logo.png
Toni Marino
2019-02-10 16:25:52
2019-02-11 09:04:24
How A Novel Inspired Led Zeppelin's House of the Holy Album Cover