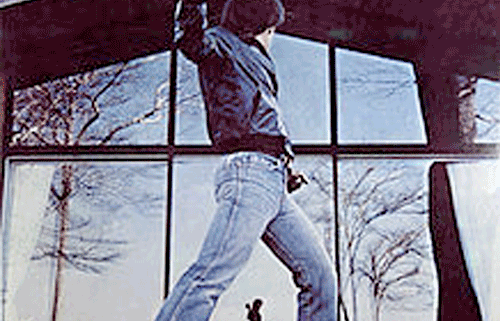 Billy Joel Throws More Than Just Rocks At 'Glass Houses.'
Glass Houses Album Cover
This is 'Behind The Cover' a closer look at the story behind the music and cover art of some of the most iconic music releases. You may be amazed at some of the stories we have managed to dig up. This is a feature brought to you by Pure Music Manufacturing.
The seventh studio album by American singer-songwriter Billy Joel was titled "Glass Houses." It was released in March 1980 and became a pivotal album in his career. It contained his first-ever #1 single ('It's Still Rock And Roll To Me') on the Billboard Pop Singles chart. The album went on to reach the top of the Pop Albums chart and sat there for six weeks. 'Glass Houses' was also the 41st best album of the decade having sold over 7.1-million copies in the US alone. It finished at the #4 spot on Billboard's 1980 year-end album chart and earned Joel a Grammy Award for 'Best Male Rock Vocal Performance.'
The album produced four more singles. They include 'All For Leyna,' released in the UK and peaked at #40 there and 'You May Be Right,' which went to #7 in the US and #6 in Canada. There was also 'Don't Ask Me Why' which spent two weeks at #1 on the US A/C chart and peaked at #19 on the Billboard Hot 100 and 'Sometimes A Fantasy' that climbed to #36 on the US Billboard Hot 100 chart.
Featuring an edgier, hard rock feel than any of Joel's previous works, 'Glass Houses' opens on side one with the sound of glass shattering. It is a nod to the cover art and album title. It assisted Joel in trying to break away from his lounge/piano singer image and step into uncharted territory. The entire 'breaking glass' concept revolves around the classic adage that "people in glass houses should not throw stones." To that end, the cover art takes that statement and basically flips in on its ear.
The front cover photo features Joel poised with a fist-sized rock just moments before tossing it through the second storey window of a glass house. The house used in the photo happens to be owned by Joel and is located on the waterfront in Cove Neck, a village in Long Island, New York. Joel was born in The Bronx, New York.
There are other versions of the packaging that have a somewhat different back cover photo that continues to meet the 'broken glass' theme. It features a close up photo of Joel peering through a hole made in a pane of glass – presumably from the rock he would have tossed from the front cover photo.
Pure Music Manufacturing is based in Manchester, UK. They are a CD manufacturing company. They offer several different CD and DVD manufacturing services. These services include pressing and packaging as Pure Music aims to become your one-stop source for all your CD replication requirements. They have created packages that are designed to meet the needs of your project as well as remain within your budget.
https://pure-music.co.uk/wp-content/uploads/2019/09/Glass-Houses-album-cover.png
500
500
Toni Marino
https://pure-music.co.uk/wp-content/uploads/2015/03/logo.png
Toni Marino
2019-09-02 10:58:11
2019-09-02 10:58:11
Billy Joel Throws More Than Just Rocks At 'Glass Houses.'