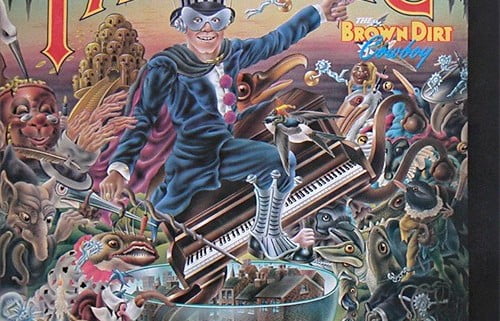 Elton John Introduces A Fantastic Captain And A Dirty Cowboy
Pure Music is a CD manufacturing company. This is a section we like to call "Behind the Cover" because it gives us a chance to look at album cover art from the past few decades. This particular one is an involved piece of artwork used by Elton John.
The ninth studio album by Elton John was released in 1975. It was interesting in several ways. One of which was the content. Titled, "Captain Fantastic and the Brown Dirt Cowboy," it was an autobiographical look at the early musical careers of John and his writing partner Bernie Taupin. Captain Fantastic was a reference to John, if you needed that to sort them out. This would mean that the Brown Dirt Cowboy character was to be Taupin.
When it was released, it debuted at the #1 position on the Billboard 200 in the US. That made it the first-ever album to do that and it went on to sell 1.4-million copies in the first four days of release. It held the top chart position for seven weeks and it debuted at #1 on the RPM national Top Albums chart in Canada. It peaked at Number Two on the UK Albums Chart and is considered one of the top 500 Greatest Albums of All-Time according to Rolling Stone magazine.
Pop artist Alan Aldridge designed the cover using the Renaissance painting The Garden of Earthly Delights by Hieronymus Bosch for images to draw into the design. As you can imagine by the title, the artwork contained a lot of activity and intricate drawing. The main focus of the artwork was Elton riding a piano rodeo-style with all kinds of additional faces, creatures, landscapes and assorted other visuals. It ended up looking as a rather 'busy' piece of artwork but somehow was attractive enough to draw attention when viewed.
The album itself was also rather special for a reason other than it contained the massive hit "Someone Saved My Life Tonight" and that it was certified gold two weeks before it was released. The first 5,000 copies of the original pressing were in chocolate brown vinyl and signed on the inside by both John and Taupin. These copies also contained a note to that effect.
Over the years there have been a few re-releases with the most notable being in 2005 when it was produced as a Deluxe Edition CD. Aside from being in a digital format, this particular release saw limited edition copies pressed in brown. The character of Captain Fantastic spawned a pinball machine in 1976 which featured artwork by Dave Christensen that showed John in his Pinball Wizard costume.
Pure Music Manufacturing is based in Manchester, UK and is a CD manufacturing company. Pure Music provides many different CD/DVD manufacturing services which include pressing and packaging. Pure Music aims to be your solitary source for CD replication services and has designed their manufacturing services to include affordable options that are sure to meet your project specifications as well as stay within your budget.
https://pure-music.co.uk/wp-content/uploads/2019/03/Captain-Fantastic-and-the-Brown-Dirt-Cowboy-album-cover.jpg
500
500
Toni Marino
https://pure-music.co.uk/wp-content/uploads/2015/03/logo.png
Toni Marino
2019-03-04 09:50:23
2019-03-04 09:50:23
Elton John Introduces A Fantastic Captain And A Dirty Cowboy