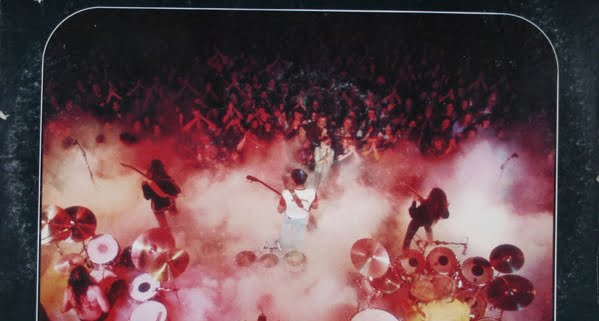 What Were Once Vices Are Now Habits Album Cover
A School Newspaper Influences A Doobie Brothers Cover
Pure Music Manufacturing proudly presents another instalment in the ongoing series of 'Behind The Cover.' This is where we take a look at the music and artwork of an iconic music album.
The fourth studio album released by American rock band The Doobie Brothers had a rather long and unusual title. It was released in February 1974 as "What Were Once Vices Are Now Habits" which eventually became a catchphrase for many who used it to describe their carefree lifestyle during that era.
The album had two singles, neither of which made much of an impact on the charts. The first one, "Another Park, Another Sunday" was your typical love song that was described by songwriter Tom Johnston as being "about losing a girl." It was originally an acoustic song but got an electric makeover before it was recorded for the album. The second single, "Eyes of Silver" was another piece by Johnston who claimed he wrote them "at the last minute" which was why they were not so well-crafted. Or at least that was what Johnston went on record as saying as we all know that sometimes the best music comes from a last-minute idea or rewrite.
As time passed after the album release, the band's record company re-released an old single desperate for some chart activity. This occurred at about the same time that radio stations discovered the B-Side of "Another Park, Another Sunday" which was a tune titled, "Black Water." The popularity of that B-side led to it being officially released as a single and the song went on to become the first #1 hit for The Doobie Brothers. It sold more than one million copies and pushed the Doobies into the limelight.
The album cover lettering came from an unusual source. The school newspaper at J.E.B. Stuart High School in Falls Church, Virginia – the Raiders Digest – featured a new, stylish font after a recent makeover. The high school was once attended by the band's drummer John Hartman and the unique font attracted him while on a visit to his former high school. It was from that visit that the font was chosen for the "Vices" album cover.
The cover photo was shot by The Doobie Brothers' Media Coordinator Dan Fong. It is a shot taken during a live concert at E. A. Diddle Arena at Western Kentucky University in Bowling Green, Kentucky. The concert was on December 4, 1973. Fong captured some of the excitement that was present during that specific show. Fong also got credit for the photo that was used on the cover of the band's previously-released "Takin' It To The Streets" album.
Pure Music Manufacturing is a CD manufacturing company based in Manchester, UK. They can take care of all your CD/DVD replication services including pressing and packaging. Pure Music intends to be your single source for all these services and has created packages that will meet both your project requirements and budget. For details, contact Pure Music today.
https://pure-music.co.uk/wp-content/uploads/2019/10/What-Were-Once-Vices-Are-Now-Habits.jpg
611
599
Toni Marino
https://pure-music.co.uk/wp-content/uploads/2015/03/logo.png
Toni Marino
2019-10-28 12:09:49
2019-10-28 12:09:49
What Were Once Vices Are Now Habits Album Cover