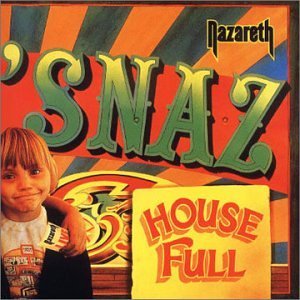 It's Naz Not Snaz, One Of The Most Mistakenly Identified Albums By Nazareth
It's Naz Not Snaz, One Of The Most Mistakenly Identified Albums By Nazareth
It's Naz Album Cover
Here is another instalment of "Behind The Cover." It is brought to you by Pure Music Manufacturing and tells the story behind the music and cover art of an iconic record album.
"It's Naz" is a double live album released in 1981 by Scottish hard rock band Nazareth. Live albums are usually recorded throughout several dates in a specific tour with the best versions of the songs picked and mixed with other great versions. In essence, a stellar live album can contain songs performed live from several different dates and venues and produced in such a way that the album(s) sound like a single live concert. Nazareth chose the performance at Vancouver's Pacific Coliseum as the best show of the tour and used that one show in its entirety.
The original release contained two bonus studio tracks and the German release of the two-disc set also contained a free bonus 1-sided 7-inch disc with a remix of the song "Morning Dew" with vocals sung in German. It was never released separately and has been incorrectly listed as a promo single.
Speaking of incorrect labels, this album is frequently misidentified as "Snaz" thanks to the way the cover art sits on the front of the album. The words "It's Naz" appear in large block letters over a carnival-themed background as you would expect to see on the side of a carnival vehicle or promotional sign. When fully opened, the gatefold-sleeve clearly says "It's Naz" but when it is not open, the album cover says 'S NAZ and that has confused the album title for as long as it has been available. The back of the original album cover has the "I" and "T" on it and for some reason, the design did not take into account that people don't normally read from back to front. It has been one of these difficult marketing problems with gatefold sleeves.
What adds to the confusion is that on the front cover there is no apparent space between the "S" and "NAZ" parts which makes the disc appear to be called "SNAZ." Whether or not that was deliberate and meant as a joke of sorts may never truly be revealed. However, the band's official website lists it as "It's Naz" and that will be the title we will go with as well.
The album produced no singles and peaked at #83 on the US Billboard 200 Albums chart. It also sits at #430 in Rock Hard Magazine's book of the 500 Greatest Rock & Metal Albums of All Time. The band followed it up the following year with the curiously titled, "2XS" which translates to "to excess."
Pure Music Manufacturing is a Manchester, UK-based CD manufacturing company. They can take care of all your CD/DVD replication services which also include pressing and packaging. Pure Music plans to become your one-stop source for all of these services and has created packages designed to meet the needs of your project and fit your budget. To find out more, contact Pure Music today.
https://pure-music.co.uk/wp-content/uploads/2019/11/its-naz-album-cover.jpg
300
300
Toni Marino
https://pure-music.co.uk/wp-content/uploads/2015/03/logo.png
Toni Marino
2019-11-14 14:20:04
2019-11-14 14:20:04
It's Naz Not Snaz, One Of The Most Mistakenly Identified Albums By Nazareth