Free DVD & CD logos for download (Audio, Rom & Enhanced) & All Rights Reserved text.
CD & DVD logos,
some love them, some loathe them. If you like your logos then you should find what your looking for below. In the early days of CD Pressing it was compulsory to have the CD logo printed on the disc and the rear cover of the artwork. Back then the usage of the logo was very strict, it had to be of a minimum size and have a high foreground to background contrast.
Some designers resented having to place the CD logo on their perfect creations and would try all sorts of tricks to hide the pesky logo. Some were successful, others not, meaning they would have to re-supply the CD artwork.
These days CD manufacturing companies do not require you to have the logo printed on the CD or  packaging, so it's up to you if you want to have one or not. Personally when designing CD artwork I do not use the logo unless asked to, my view is that if you do not know what a CD looks like by now, well then there's no hope for you. My exception to this rule is on Enhanced CD pressings, as it's not always obvious that the disc may contain a video or other goodies, so its good to give a clue.

For DVD's I tend to use the logo depending on the type of packaging the job is being supplied in. I don't tend to use one if it is in a DVD Amaray box, as again it should be pretty obvious what type of disc it is. If the packaging is a card wallet I would probably add the logo, but that's just the way I roll……….
Notes about the logos.
To download the logos click on the image of the format you require. For ease of use the logo files have been compressed into one ZIP folder that will need to be expanded to be used. Each folder contains 3 versions of each logo, EPS, PDF and TIFF (with transparent background). I would strongly recommend using either the EPS or PDF version if your design package supports these formats. If it does not support either of these formats I would recommend using a design package that supports these files, or worst case scenario use the TIFF file. Anyway enough of my yacking, get your logos below.
CD Audio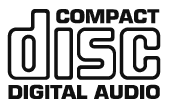 The daddy, the first one to adorn that 5″ / 120mm miracle of audio loveliness. It does what it says on the tin, it's compact, it's a disc, it contains audio, what more do you need to know. Your CD master needs to conform to Red Book Standard to be allowed to wear this badge with pride, if it is a no frills audio CD, it probably is..
CD-ROM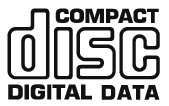 The colour yellow has been been associated with many things over the years, from brick roads to submarines. But in 1985 it was to be the turn of the CD, when "Yellow Book" was adopted as the standard to hold data for the computer industry. Only discs that conform to the Yellow Book standard can show off this logo, and several formats are available, but ISO9660 is the most popular. To be honest not a particularly popular product these days, high speed internet has done this format no favours .
Enhanced CD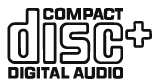 "One Disc to rule them all, One Disc to find them & One Disc to bring them all" So this brings us to the last of the popular CD formats, and my favourite. The Enhanced CD, the glorious child of CD audio and CD-ROM. Designated as Blue Book, (I thought Red & Yellow made Orange though?) this allows you to manufacture a CD that will play the audio on a standard CD player and access data files, such as videos, pictures and PDF files on a computer.
DVD Video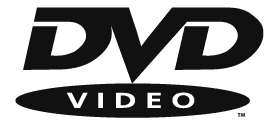 The "Digital Versatile Disc" or DVD, turned out not to be quite as versatile as promised, the "screen angle" button on my remote has never seen much use, and I have yet to find a player that will make me toast, despite my daughters numerous efforts. But you cant underestimate it's phenomenal success, the fastest growing format in history. It crushed the video format almost overnight and is still holding strong against the Blue Ray disc.
DVD ROM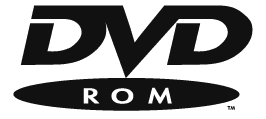 The darling of the computer game market, although rarely used outside the gaming industry. However still a very cost effective means of getting a large amount of data into the market.
"All Rights Reserved………."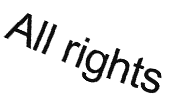 Hardly a day goes by when I am not asked to add this ubiquitous text to a CD or DVD label in a nicely curved fashion. Thors mighty hammer against piracy, OK it might not deter that many people from copying your disc, but it does add a professional look to the artwork. I have provided two versions, one for text at the top and one for text at the bottom of the disc.
So that brings us to the end of CD and DVD logos, hope you found what you are looking for.
Cheers
Kev Pure

https://pure-music.co.uk/wp-content/uploads/2011/05/LOGO-COLOUR21.png
401
700
Kevpure
https://pure-music.co.uk/wp-content/uploads/2015/03/logo.png
Kevpure
2011-05-09 15:36:07
2019-02-11 11:31:56
Free DVD & CD logos for download (Audio, Rom & Enhanced) & All Rights Reserved text.